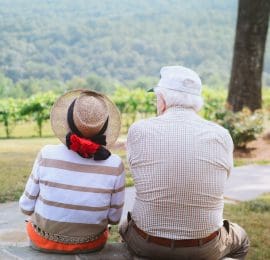 Long Term Care Questions You Should Be Asking Now
No one likes to think about getting older. But unfortunately, it's something all of us will have to deal with later in life. If we are lucky enough to make it to our golden years, then getting older comes with its own unique sets of challenges – including physical health and mental health. When our health does start to deteriorate, we might need a little extra help doing all of the things we used to do in our day to day lives. This is when we might start to consider bringing in some support, usually in the form of care.
Luckily, there are a lot of options available when it comes to long term care. But it's not a simple subject, and it can be a sensitive one to talk about, so it's not surprising that a lot of people have questions about long term care. So, this week, we wanted to help answer some of the most commonly asked questions about the care process – including the financial side of things.
Do I Need to Live in a Care Home, or Have Home Care?
There are, generally speaking, two types of care that the elderly can rely on when they can't live independently anymore:
Traditional care homes
In home care
These might sound similar, but they are very different. The biggest difference is the location – home care takes place in your own home, with a carer coming in to give you the support you need – while a care home is a dedicated facility that you move into. In a care home, you have access to care and support full time, and can adjust the level of care you receive depending on what you need. Many people end up starting off with in home care, and then transitioning into a care home when staying in the home becomes more difficult.
There are advantages to both kinds of care, so the choice between the two depends on your care requirements. With home care, you get to stay in your own familiar surroundings, avoid the stress of moving and maintain your independence, while a care home will be able to provide 24/7 tailored care to give you the best possible quality of life, and provide relief for your family. Each option will have different costs attached, but ultimately the decision is yours.
How is Long-Term Care Funded?
A big consideration for many people when choosing long term care is cost. Of course, permanent, long-term care isn't cheap, especially if you need around the clock care. Very broadly speaking, if you have assets over a certain amount (£23,250 at the time of writing, including property), then you will be classified as a self-funder, and will be required to cover any care costs yourself, in full. This is the main reason we recommend planning for long term care earlier on in life, so that if you fall into the category of self-funding, you have a pot of money to draw from that won't reduce the amount of inheritance you leave behind.
If you have assets below this limit (with the property limit in place), then you could be eligible for Local Authority funding. There are more than 430,000 people in the UK living in residential and nursing care homes. Of these adults, almost half are paying for their own care costs. The rest are offered some level of support, either wholly or partly, by local authority funding or NHS funding. To find out of you qualify, you can visit sites like this one, or talk to your local authority website.
Could I Get Help?
While your national insurance goes towards things like your state pension, it unfortunately doesn't count towards the costs of social care. Instead, this type of care is managed by your local authority, so if you need help funding your care, you would need to apply directly with them. Often they will do a care needs assessment to find out what support you need, followed by a means tested cost assessment to determine what your contribution to the cost of your care would be, and how much you could have funded by the local authority. There is a cap on the amount they can offer in funding per individual, though it varies from authority to authority. Not all care homes will accept Local Authority funded placements, as the amount paid is typically much lower than their private fees so some care homes could request a further top up. If you think you might be eligible for care funding, you can request your care needs assessment from the Adult Care Services department of your local authority.
What Happens if I run out of Money?
If the money you've been using to fund your long-term care is running out, you have a number of options. If you are self-funding and running low, the first thing you can do is find out if you are eligible for any type of funding from your local authority using the steps above. You can also look into NHS Continuing Care funding, which can cover accommodation costs in homes that provide care or contribute towards care costs if you stay at home. If you are staying at home, moving to a smaller property that better suits your needs may free up some funds to pay for care. You can also apply for attendance allowance, which will give you a weekly stipend that could help top up costs.
The important thing to know is that you don't need to worry about losing your place in your care home. There are plenty of options available to keep you in a place that meets your needs, and care homes aren't in the habit of evicting residents who are struggling. Check your care home contract, and then check the local resources for help.
At Chilvester Financial, we recognise that the need to find long term care and rises in the cost of living can put real pressure on your income in later life. We can offer strategies and solutions that help you make the most of your money and find tax efficient ways to help you pass on your wealth to your children and grandchildren. If you would like to find out more, just get in touch with the team today.