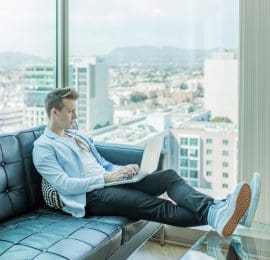 Video Appointments Now Available
'Chilvester is just what you need for independent financial advice via the internet!'
Your financial needs do not stop because of an event like the Coronavirus. You still need your mortgage brokered or your pension released for your retirement. At Chilvester we make it easy for you to speak to one of our professional advisers – all you need is an internet connection and a smart phone, tablet or similar device. Grab your cup of coffee, sit back and the video meeting starts. You can share documents, talk face to face all in the comfort of your home. There is no need to download extra Apps, software or buy a headset – booking and holding a meeting is easy. Contact us to arrange a meeting, we'll send you a link and at the meeting time you simply 'click' and the meeting starts. What a great way to sort out your finances.
Reduce your stress by talking via a video meeting to one of our experienced advisers, take the hassle out of finding a parking space and being worried about getting a parking ticket. Relax, once the meeting starts, it's like we are in the room sitting right next to you. Your friendly adviser will talk you through exactly the same things as if you were there in person. The quality of our service is not compromised because it is over the internet and once you have agreed that you want us to work with you we can provide you with the full support of the Chilvester paraplanning, new business and client servicing teams! We will store your data on our secure cloud-based Portal which allows you to upload documents and share instruction messages.
As we already have Cyber Essentials accreditation you do not need to worry, your data is safe with us. The Portal can be viewed and updated on your phone or PC. Financial advice is changing in our digital world, but we believe you do not need to compromise. You deserve quality advice, from a real qualified Adviser rather than being led by a computer through the decision process. After all our plan is to only give you, 'Just what you need'.
So, what are you waiting for, contact us now and see how easy it is!