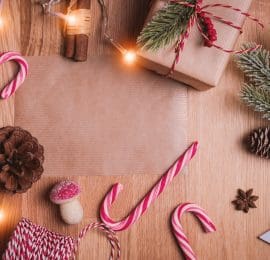 Our Favourite Festive Traditions (And Where They Come From)
Christmas is a time for tradition. Even if you're not religious, there is a certain routine to the holiday, and every family will have its own Christmas traditions. At Chilvester Financial we love a good tradition, especially around the festive season. We wanted to take a quick look at some of our favourite traditions, along with where they come from and how we celebrate them. We hope you enjoy!
Decorations
Decorations have always been something closely associated with Christmas, but in the last few years it seems to have almost reached competitive levels. Everywhere we look there are bigger and better light displays, with more intricate ornaments and decorations. It's such a beautiful thing to see and driving around the neighbourhood with the family to look at all the Christmas lights is always a highlight for us. But decorating the house has been a big part of Christmas tradition since the 15th Century – when it was the custom for every house and all the parish churches to be 'decked with holm, ivy, bays, and whatsoever the season of the year afforded to be green.' That's obviously morphed quite a bit over the years, and now decorations aren't just limited to natural greenery, but everything and anything in all colours of the rainbow.
Giving
We couldn't do a Christmas list without including something sort of financial, could we? The truth is that Christmas is the season for giving, and we're not talking about the presents here! People in the UK certainly get into the spirit of giving. As well as eating our own weight in chocolate coins, according to the Charity Commission, last year 85% of people in Britain gave directly to a charity, even if they didn't usually donate. On top of monetary donations, you also see floods of food donations for food banks, donations of toys for disadvantaged children and fundraising events all themed around the big man in red.
Christmas Wreaths
The wreath on the door might be one of the biggest signs that Christmas is on the way – along with Christmas trees and decorations appearing in shops! And it turns out, the two traditions come from the same place. The custom of bringing evergreens into the home during winter goes back to the 16th Century, where pruning the tree into a triangle (to represent the Holy Trinity) was part of the preparations. Evergreens were an important part of the celebrations of the new year, so rather than throw the pruned pieces away, people would weave them into circular wreaths. Over time, Christmas wreaths brought a whole new layer of meaning. Where originally, they served as Christmas tree ornaments, they slowly became the standalone decorations we're familiar with today. They were formed into a wheel-like shape partially for convenience's sake — it was simple to hang a circle onto the branches of a tree — but the shape was also significant as a representation of divine perfection. And then of course, they are just festive and cheerful. They are a universal symbol of Christmas, of the start of the festive season and of unity in the house within. Isn't that a lovely sentiment?
Food
It wouldn't be a Christmas traditions list without the food! Food is almost as important as the tree when it comes to Christmas, and every year families get together around a table laden down with festive goodies – usually the same ones as on everyone else's tables! Turkey, roasted potatoes, cranberry sauce, stuffing, sprouts, pigs in blankets, and all sorts of sweet things for dessert not forgetting the Christmas Pud! But did you know that traditional Christmas food varies from country to country? For example in Sicily they serve 12 kinds of fish on Christmas Eve, while in Sweden the Christmas Day table is called a smörgåsbord, and typically includes ham, meatballs and herring as the star attractions. But no matter where you come from, food is the thing that brings families together over the holidays, along with eating too much of it and having a nap on the sofa afterwards (or is that just us?)
And that's it from us for this year! It just leaves us to wish you and your Families a very Merry Christmas and a Prosperous and Happy New Year.