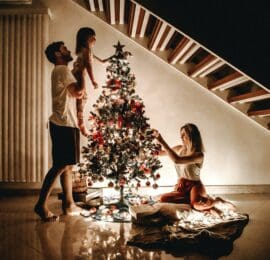 Merry Christmas from Chilvester.
It's that time of year once again, what in normal years is a festive and joyous period of celebration. Considering the year we've had, I think we all need that now more than ever!
Now obviously, we may not all be able to have the same Christmas plans that we normally would, but that doesn't mean we can't all still enjoy ourselves. After all, Christmas is a time for celebration and appreciating what we have. We've all made changes to our daily lives due to the pandemic so who say's we can't make changes to our Christmas as well, and still have a great time?
As you may have heard, the rules for Christmas are very different this year. In the UK, 99% of the country is in a tier 2 lockdown or higher, which will greatly limit our freedom to see friends and family for the foreseeable future. We do, however, have Christmas day, where we can mix with up to 2 other households, as long as you or they are not in a tier 4 area. This means that you should hopefully be able to meet up with your friends or family as long as you're not mixing with more than 2 other households. While this may not be the ideal situation, at least we can briefly see our loved ones at the time we would miss them most, even if it is only for one day. Remember to follow the Governments guidelines, 'Hands, Face, Space' wherever possible to help to reduce the spread of infection and keep everybody safe during this uncertain period.
But what happens if you are unable to meet your family during this period?
We appreciate that not everyone will be able to meet their friends and family, even with the slight relaxing of the rules over the festive period. Some people may be shielding or self-isolating, while others may be living overseas and unable to make it back in time. In this case, it is important to try and recreate the day with as much normality as possible. Make a special video call over Christmas dinner, or open presents together in each other's virtual company. You may find that just being in contact with each other is enough to make the day special.
Play games or watch films together over the internet, have a drink or just sit back, relax, and enjoy your day with whoever it is you're spending it with, and we're sure you'll have a great Christmas.
Christmas happens every year, so it is more important now than ever before to stay safe and follow the guidelines. After all, if we do that this year, then perhaps next year will be a Christmas much more in line with how we have celebrated it in past.
Stay safe, and a Merry Christmas to you all from all of us here at Chilvester Financial!