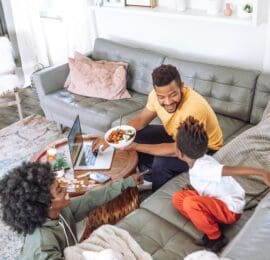 Taking your first step onto the property ladder.
For most people, the biggest key goal in life is to get on the property ladder. Owning your own home is often seen as the key to a stable life, with mortgages often being much cheaper month by month than renting, therefore being much easier to manage alongside all the other costs of living.
According to a recent study, nearly 60% of people in the UK who rent name "owning a home" as their number one life goal. However, due to the rising costs of home ownership, coupled with the global pandemic putting the brakes on house sales, this goal is getting increasingly more difficult to achieve. While it appears hopeful that the worst of the pandemic is behind us, and we can begin to move on, it has had a lasting effect on the cost of housing.
House prices have risen in the last year by roughly 8%, but the demand is higher than ever. This is especially true with older age groups, in particular, those in their 40's and 50's, who may be scared that their time is running out to get on the property ladder, with retirement edging ever closer and the dream of being a homeowner seeming less likely.
It's never too late to get on the property ladder though, with many people renting well into their 50's before finally purchasing their first home and taking out their first mortgage.
On the other hand though, many younger people are becoming increasingly interested in becoming homeowners, with just under half of those aged 18-23 in the same survey expressing a desire to climb the property ladder.
If you can afford it, getting on the property ladder early can be incredibly beneficial moving forward, with it being much easier to continue to climb the property ladder once you're on the first step.
Here at Chilvester, we know better than anyone that getting onto the property ladder can be difficult, regardless of your age. If you're just starting out and want to get on the property ladder early, or if you've been trying for years with no success, then let us help you take that step.
We are also very happy to introduce our brand-new mortgage adviser Ryan Pipkin, who joined us in May this year. While he may be a new face, he is not lacking in experience. He has been in financial services for just under 6 years and has been advising for four. He has experience in arranging residential and buy to let mortgages, as well as more niche areas such as help to buy, shared ownership, right to buy and adverse credit.
Ryan is eager and ready to share his knowledge and help you purchase your first home, go through your borrowing options with you, and ultimately give you just the advice you need to take that first step onto the property ladder. So, if you're looking to purchase you first home, or continue on your journey up the property ladder, get in touch with us at Chilvester Financial for your free, no obligation-consultation today!
Survey was conducted by data group Censuswide in March 2021*