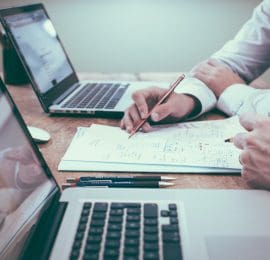 The Lowdown On Professional Indemnity Insurance
If you're a business owner, you're probably aware that you need insurance of some kind. It largely depends on the industry you're in – for some (like construction) insurance is mandatory, while in others it's a bit more flexible. If you've looked into it before, you may have come across professional indemnity insurance. It's one of the most common insurance types on the market and is an absolute must for any business in the professional services industry. Today, we want to go into what exactly professional indemnity insurance is, what it covers, and why your business might need it.
 What Is Professional Indemnity Insurance?
 Looking at the definition, professional indemnity insurance is a commercial policy designed to protect your business in the event that a client deems your work or advice inadequate. It's pretty much only useful to people providing professional services or advice and can be used to prevent you and your business from losing money if you have to defend yourself against a claim, or settle one. After all, what can seem like small errors can be hugely expensive.
For example, you accidentally pass on confidential client data to the wrong email address, or you're an architect and make a small mistake in designing a house extension, which then collapses. In both situations your client would have grounds to sue you, and any compensation payments will usually take into account the financial loss the client suffered due to your mistake. Professional indemnity insurance can help safeguard your business from financial harm while you defend and settle this kind of claim.
What Does It Cover?
 What your professional indemnity insurance covers will somewhat depend on what level of cover you choose, so we can't say for certain that your policy will contain all of these things. However, most policies will cover a broad range of potential risks, including:
Legal costs of defending yourself against an allegation
Compensation
Client losses
Consequential loss
Unintentional defamation
Lost income
In short, professional indemnity insurance covers you in care you need to pay to correct a mistake, to to cover legal costs if you make an error in your work. As we mentioned previously, some things need to be specifically detailed in your policy, so you will need to check with your insurance provider to find out what your policy covers.
Do I Need Professional Indemnity Insurance?
 Well, do you provide professional advice or services to your clients? Then yes, you do need it! That should really be it, but for the sake of thoroughness, we should explain more.
There are many professions need to have professional indemnity insurance as part of their respective industry body's regulatory requirements. For example, insurance brokers are required to have professional indemnity insurance to protect themselves and their clients. But even if you're not obligated to have professional indemnity insurance, without it you could be liable for thousands of pounds worth of legal fees and compensation payments – not to mention lost income from time spent defending any allegation.
You're likely to need professional indemnity insurance if:
You provide advice or professional services to your clients (including consulting or contracting).
You provide designs to your clients (such as working as an architect or design engineer).
You want to protect against allegations of mistakes or negligence in work you have undertaken for your client.
You work as a contractor, consultant, freelancer or self-employed professional, and your client has requested you arrange professional indemnity insurance in order to undertake a contract.
Your industry association/regulatory body requires you to have it.
If that sounds like you, then you probably need to chat to an expert and see where you stand.
At Chilvester Financial, we have expert business insurance advisers ready to help you with your professional indemnity insurance. We are on hand to help you work out exactly what level of cover you need, and which policies will be right for you and your profession. From making sure you have basic cover in place, through to helping you ensure you're covered for every eventuality; we can arrange the right insurance for you and your business. If you would like to know more, just get in touch with us today.