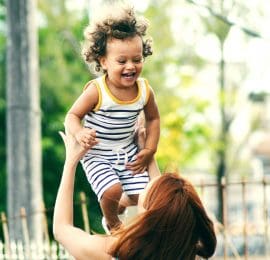 Saving For Your Child's Future – It's All In The Mind
When we meet with new clients, one of the first things we do is ask them about their goals, and what they want to achieve with their life and their finances.
This is so that we can create a tailored plan to help them actually get there, rather than opting for an 'out of the box' solution that might not deliver the results they want. But one of the aims we see come up time and time again is saving up a nice nest egg to support their children – whether it's a new baby they want to give the best start in life, or an older child who will be going to uni in a few years. As parents, it's in our nature to want to provide for our children, especially in a world where prices seem to be climbing every day. So, how can you save for your child's future, and will that change as they get older? 
JISAs
 JISA might not be an acronym you've heard before, but it is essentially an ISA, but for children under 18. The main benefit of a JISA (or Junior ISA) is that it offers tax-free growth, with no income or capital gains tax to be paid on it. This includes when the account is being funded by parents, even when the income exceeds £100 a year (2 common restrictions on other types of account). This means that parents can open up a JISA in the name of their child and pay money into it in a tax efficient way, knowing that when their child is old enough, that money will be there for them to access.  
Children have 2 different types of JISA: 
A cash JISA, or; 

 

A stocks and shares JISA

 
And you can freely make transfers between the two if you want to open both. At the time of writing, you can put up to £4,386 into a  JISA each year tax free. For a stocks and shares JISA, you can put your child's savings into investments like shares and bonds, potentially giving you a much higher return than the standard interest rate. This move is riskier, but it may give your child a bigger return in the long term.  
Life Insurance
It's never nice to think about, but life insurance is one of the most important things you can set up for yourself when you're planning for the financial future of your family. Life insurance is essential because it is one of the only kinds of insurance that doesn't directly benefit you – only those you leave behind. With a life insurance policy in place, you can ensure that when you leave this earth, your family will still be taken care of. A life insurance policy pay-out can be used by your family to: 
Paying off debts –

In the case of a mortgage, your family might need extra funds to keep being able to pay it off. Without a boost from life insurance, there is a chance they may need to sell the house when you're gone.

 
Paying final expenses

–

Sadly, funerals aren't cheap, and prices can sometimes run into the thousands. Life insurance money ca

n

help cover this and ensure your family won't

run

up a

debt to

carry out your funeral wishes.

.

 
Replacing your income –

The money from a life insurance policy can go a long way to replacing your lost income, ensuring your family isn't left struggling.

 
Covering children's expenses

–

A life insurance pay out can also be

p

ut towards making sure your kids will be able to afford everything they need in the years to come.

 
Children's Pensions
Although those 2 words might seem completely at odds, the reality is you can open a pension for your children from almost as soon as they are born. From a functional standpoint, a children's pension is similar to a standard pension – money goes in, and when the child turns 55 they will be able to access it. Parents can pay up to £2,880 a year into the pension, of which there are many different  types . The child will benefit from 20% tax relief on top of this, which means a total of £3,600 per year. Over their life, this can add up to a significant amount. The catch is that the child will not be able to access this money until they are in their fifties. 
At Chilvester Financial, we love helping people plan for their financial future, and the future of their families. Our advisers can help you work out what the best method of saving for your children would be, as well as other options you may not have considered to help support your children now and in the future. If you would like to find out more, just get in touch to book your consultation.