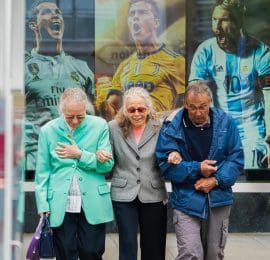 Equity Release in Modern Times
Your home is probably your most important financial asset. But once you've paid off the mortgage, you're sitting on a large amount of capital that is all tied up in your home. And with times being as uncertain as they are, that can be incredibly frustrating. So it's no surprise that more and more people have been looking into equity release as an option. But what is equity release, and what does it look like in the modern market?
What is Equity Release?
The general concept of equity release is quite simple – it allows you to access the capital tied up in your property. You unlock the equity in your property and turn it into a cash lump sum. Because of the nature of it, equity release is only available to the older generation – with a minimum age limit of 55 years for most schemes. There are a number of different ways you can access equity release schemes, depending on your personal circumstances.
The 2 Types of Equity Release
The term equity release doesn't have a single definition. This is because there are 2 different methods you can use to release the equity from your home, which involve taking out a lifetime mortgage, or selling all or part of your home.
Lifetime Mortgage: This is the most commonly seen option for equity release, they allow you to borrow a proportion of the value of your property with either the homeowner just paying the monthly interest, or with the interest rolling up. With interest roll up plans, the outstanding mortgage balance increases with compounding of the interest and you do need to be aware that this can seriously eat into the remain equity over time. You can apply for a lifetime mortgage if you are over 55, and you can only normally lend up to 60% of the value of the property.
Home Reversion: This is where you sell all or part of your property to a home reversion provider for either a lump sum, or regular instalments. You get to stay in your home as a tenant until you pass away, as long as you keep it properly maintained and insured. You, or your beneficiaries do not benefit from any future increases in house values, unless you reserve a share of the equity at the outset. You can normally take out a home reversion if you're over 60 but with some lenders it's 65.
Equity Release During Lockdown
Of course, many people have been feeling the financial strain of lockdown, and this has led them to look for other ways to fund their lifestyle during these challenging times. Lump sum equity release plans have been growing in popularity during lockdown, compared to the first 3 months of the year, according to research. In fact, lump sum plans accounted for 61.2% of plans across April and May.
The research also revealed something very interesting – there has been an increase in the younger age groups releasing equity in their property. According to the data, the number of plans taken out by 55-59 year olds rose by 4% in May, compared with the first 4 months of the year. Plans taken out by the 60-64 age group also rose by 3.5%, and the 65-69% age group rose by 5%. So overall, every age group saw an increase in taking out equity release plans, in order to provide a buffer while income is uncertain.
If you're interested in finding out more about Equity Release as a way to provide you with a lump sum during these difficult times, then we are here to help. At Chilvester Financial we have advisers on hand who specialise in equity release and are happy to talk through your options and create a plan that suits your needs and your situation. If equity release is right for you, then we can guide you through the process and help find a plan that works for you. To find out more, just get in touch with us today for a free, no obligation consultation.